Course Information
Learning Outcomes
Course Schedule
Lesson Plan
Trainer Profile
Certification
Entry Requirements
Course Fees
Course Information
UX (User Experience) focuses on the principles and techniques in the design of good user experience, which is the key success factor of software applications today. It generally involves four vital stages: understanding user requirements, analysis, designing and validation. These are important phases of the UX design life cycle with emphasis on building empathy with users.
This course holistically covers the different key principles of UX. The goal is to have participants learn UX by using the right techniques and designing/redesigning a product through a testing-focused approach.
Learning Outcomes
Know the importance of UX
Understand how to conduct user research
Storyboarding
Wireframing
Grasp key design principles
Prototyping
Usability Testing
Course
Schedule
Course Date: TBC
Application Period: TBC
Duration: 3 days
Time: 9am to 6pm
Delivery Mode: Classroom
Venue: Ngee Ann Polytechnic
This course may be conducted online subject to Covid-19 guidelines.
Ngee Ann Polytechnic reserves the right to reschedule / cancel any programme, modify the fees and amend information without prior notice.
Lesson Plan
Programme Schedule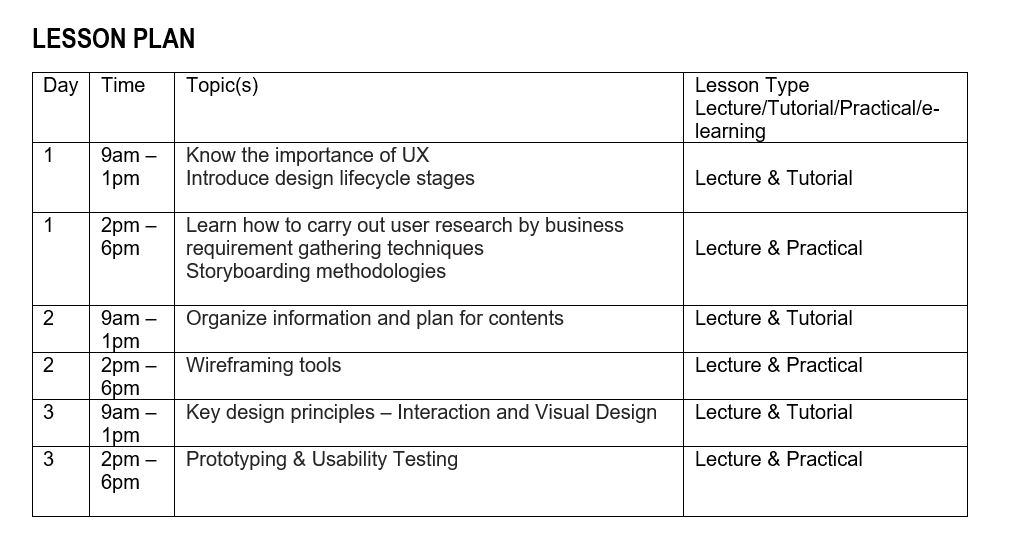 Trainer's Profile
Suresh Kumar has been teaching User interface design and User Experience design for more than 10+ years at School of ICT, Ngee Ann Polytechnic. He has enhanced his knowledge on application for UX design by involving in industrial projects. His main focus is on user research methods and validation of the design to achieve end-user satisfaction. During his UX classes, he inspires people to design through small and simple methods.
Suresh graduated from Nanyang Technological University with a Masters in Science (Information Systems). He is also a Senior Manager who oversees internship placements at School of ICT.
Experienced Snr Art Director with a demonstrated history of working in the marketing and advertising industry.

Stephanie was also a full-time lecturer with the Polytechnic for almost 10 years. She teaches in various creative modules in Interaction Design diploma, focusing on effective design & processes.
Skilled in Creative strategy, Screen based design (UI, UX), Integrated advertising campaigns in both B2B and B2C client base. Strong arts and design professional with a BA focused in Multimedia Design from Curtin University of Technology.
Certification
A Certificate of Performance will be awarded to participants who achieve at least 75% attendance and pass the required assessment.
Entry Requirements
Applicants should be conversant with basic IT skills
Applicants should preferably have passed GCE 'O' Levels course of study
Course Fees
Funding period for this course is from 18 Mar 2021 to 30 Sep 2024.
SkillsFuture Credit
All Singaporeans aged 25 and above can use their $500 SkillsFuture Credit from the government to pay for a wide range of approved skills-related courses. Visit the SkillsFuture Credit website to choose from the courses available on the Training Exchange course directory.
Union Training Assistance Programme (UTAP)
NTUC members enjoy 50% unfunded course fee support for up to $250 each year (or up to $500 for NTUC members aged 40 years old and above) when you sign up for courses supported under UTAP (Union Training Assistance Programme). Please visit e2i's website to find out more
Enhanced training support for SMEs
For enhanced training support for SMEs, enter SME in the promo code during course application.
Ngee Ann Polytechnic reserves the right to reschedule/cancel any programme, modify the fees and amend information without prior notice.
Note:
(Course fee is payable upon acceptance. It is inclusive of 8% GST and subject to review.)
Please note that the GST rate will be revised to 8% with effect from 1 Jan 2023, as such any payable course fees will be subjected to the new GST rate adjustments in 2023.
Please refer to our FAQs for more information.
| Applicants / Eligibility | Fees |
| --- | --- |
| Full course fee | $2160.00 |
| Singaporeans aged below 40 qualified for SkillsFuture Funding | $642.00 |
| Singaporeans aged 40 & above qualified for SkillsFuture Mid-Career Enhanced Subsidy | $242.00 |
| Singaporeans, Permanent Residents & ##LTVP+ qualified for Enhanced Training Support for SMEs | $242.00 |
| Singapore Permanent Residents & **LTVP+ qualified for SkillsFuture Funding | $648.00 |
| Singapore Permanent Residents & ##LTVP+ qualified for Enhanced Training Support for SMEs | $248.00 |
| Others (and Repeat Students) | $2160.00 |