Course Chair and Senior Education Specialist, Alagu Sundaram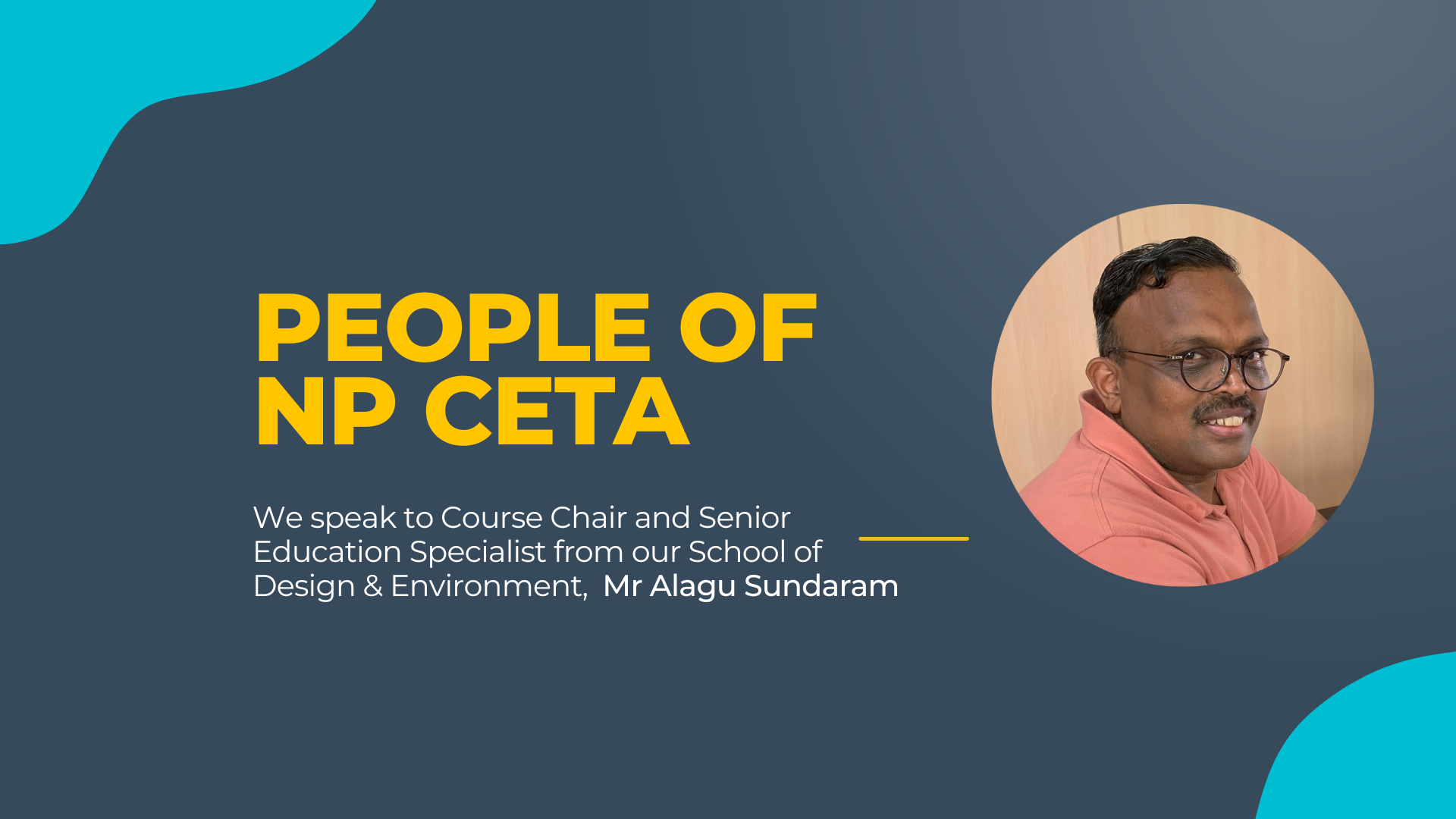 In this installment of People of CETA, we spoke to Course Chair and Senior Education Specialist at NP's School of Design & Environment, Mr Alagu Sundaram.
Mr Sundaram has been teaching adult learners for about 10 years now. We asked him more about his experience as a lecturer, and he had some great insights to share. Read on to learn more.
1. Can you tell us more about yourself, your background, and how you decided to become a lecturer?
My name is Alagu Sundaram. With my training as an electrical engineer, I have worked in Facilities Management (FM) in petrochemical and semiconductor industries. Since my university days, as I spent time studying with my classmates before our exams, I realized that I have a passion to teach.
2. Could you tell us more about the courses you teach as part of CET Academy programmes and why do you feel that this course/topic/module is important for learners?
I teach the Principles of Electrical Engineering module under Diploma in Engineering (Building Services and Fire Safety). This module teaches the basics of electrical engineering ranging from direct currents to alternating currents and the lessons are taught using a combination of in-person and online synchronous lectures. Besides being able to test out virtual and physical labs, learners are also be able to participate in interactive in-class activities which involve individual and group work. Most of my learners are already working in the FM sector, but they might not have the technical knowledge on how the systems work. After attending the lessons, they are able to gain more technical knowledge, understand electrical equipment at a deeper level, and relate the theory learnt in class to their experience at work.
3. You have been teaching adult learners for about 10 years now. What do you enjoy about it?
It amazes me how adult learners can be dedicated to continuing their education in the midst of other commitments such as work, and their personal lives.
4. Is there any unforgettable memory that you have teaching in CETA?
It is heartening to see the smiles of adult learners during their graduation ceremonies.
5. How do you recharge on your days off? Do you have any hobbies that you are passionate about?
I do slow jogging. When I had more time on my hands, I used to also write short stories in Tamil.
6. What is your favourite quote and why?
"In learning, you will teach, and in teaching, you will learn" – Phil Collins
Every lesson is an opportunity not only for my students to learn – but also for me to learn!
Keen to learn more about our Diploma in Engineering (Building Services and Fire Safety)? Visit https://for.edu.sg/diploma-buildingservicesfiresafety or simply register your interest for our Urban Solutions part-time diploma and post-diploma programmes today! Visit https://for.edu.sg/ceta-diploma-programmes now.