Course Information
Learning Outcomes
Course Schedule
Lesson Plan
Certification
Course Fees
Course Information
Ships are a valuable commercial commodity in driving economy forward. To build one is a complicated process that requires a fascinating variety of different skill trades, all working together to build a vessel that is not only operationally efficient, but safe for all those on board as well as the environment in which they navigate.
Learning Outcomes
Get familiar with the marine environment for effective communication with domain experts in the marine industry. You'll learn all about ships from terms used for their structural parts to basic processes in their production including offshore structures. You'll also gain insights about the drilling and production of oil and gas.
Course
Schedule
Course Date: 9 May – 12 Jun 2021
Application Period: 5 – 15 April 2021
Time: 6pm to 10pm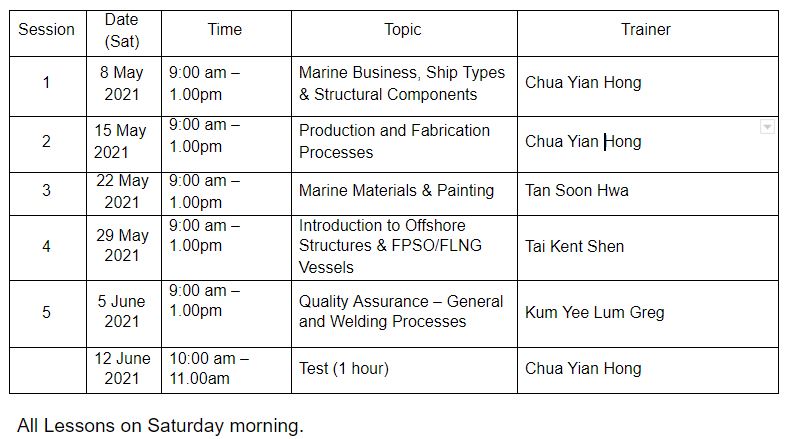 Lesson Plan
This course consists of 1 modules:
Marine Business/ Ship types & Structural components
Production and Fabrication Processes
Quality Assurance- General & Welding Processes
Marine Materials & Painting
Introduction to Offshore Structure & FPSO/ FLNG Vessel
Certification
Certificate of Participation will be awarded to participants who achieve at least 75% attendance.
Course Fees
Course fee is payable upon acceptance. It is inclusive of 7% GST and subject to review.
The course is eligible for SkillsFuture Credit. For more information on the SkillsFuture Credit click here.
For enhanced training support, enter SME iCourse fee is payable upon acceptance. It is inclusive of 7% GST and subject to review.
Union Training Assistance Programme (UTAP)
NTUC members enjoy 50% unfunded course fee support for up to $250 each year (or up to $500 for NTUC members aged 40 years old and above) when you sign up for courses supported under UTAP (Union Training Assistance Programme). Please visit e2i's website to find out more.n the promo code during course application.
| Applicants / Eligibility | Fees |
| --- | --- |
| Full Course Fee | $481.50 |
| Singaporeans qualified for SkillsFuture Mid-Career Enhanced Subsidy | $54.45 |
| Singaporeans and Permanent Residents qualified for Enhanced Training Support for SMEs | $54.45 |
| Singaporeans and Permanent Residents | $144.45 |