Senior Lecturer, Kock Wai Mun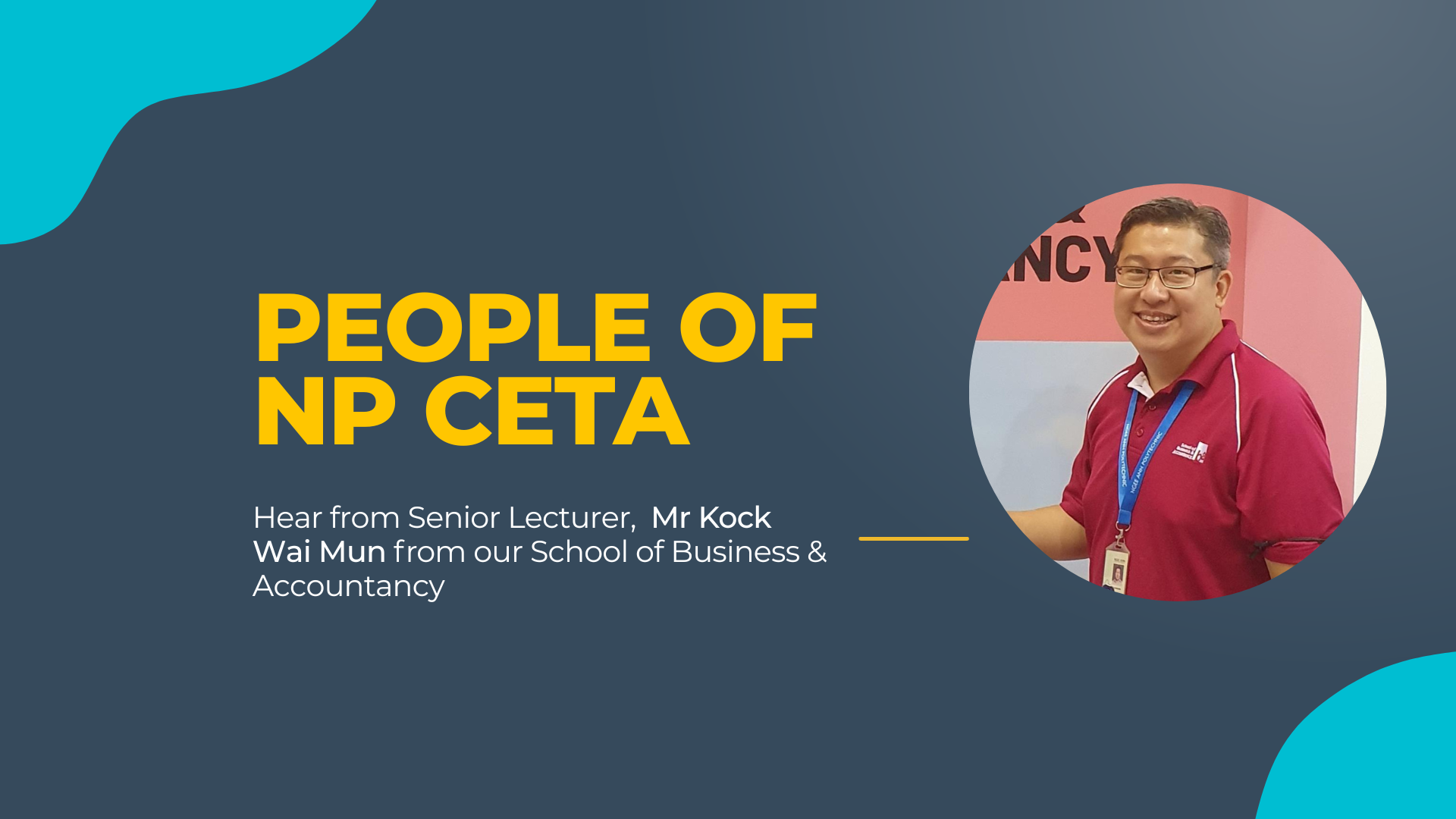 1. Can you tell us more about yourself, your background, and how you decided to become a lecturer?
I was trained in Economics and Accountancy. Prior to joining Ngee Ann Polytechnic, I had worked in both the public and private sectors. I always knew I had a calling to teach since my university days, so I decided to just give it a go. I have been lecturing in NP for more than a decade.
2. What motivates you in your day-to-day role in teaching?
Education is a long term endeavour. Seeing my students during their graduation ceremony is a big motivation for my day-to-day teaching!
3. Could you tell us more about the courses you teach as part of CET Academy programmes and why do you feel that this course/topic/module is important for learners?
I teach several modules, including Accounting & Finance and Business Statistics in the Diploma in Business Practice (Administration and Management) programme. Our diploma courses aim to develop the skillsets of learners holistically. The school, with inputs from various stakeholders, has curated them to ensure that what we offer is relevant and current to the needs of the industry.
4. What are some of the Work-Study Programmes offered by the School of Business & Accountancy? When do applications open and how does the programme work? Why is WSP a good route for students to consider?
The School of Business & Accountancy offers 2 Work-Study Programmes (WSP). They are (i) Work-Study Cert leading to Diploma in Business Practice (Administration & Management) and (ii) Advanced Diploma in Accountancy. Both programmes target recent graduates (Higher NITEC graduates for Work-Study Cert) and Diploma graduates (for Advanced Diploma in Accountancy) who want a career head start by acquiring relevant work experience and attaining industry-recognised qualifications at the same time. Trainees work full-time with their employers and study part-time in NP. Lessons are conducted both in campus and through online platforms. WSP allows trainees to earn a competitive starting salary and full company sponsorship of course fees.
5. How long have you taught adult learners? What do you enjoy about it? What are some of the positive feedback you've received from your adult learners?
I have taught adult learners for almost 8 years. I strongly believe in the concept of continuous education and training where upskilling and reskilling is the best way to move forward in this ever changing environment. In adult learners, I sense that many of them share the same view as I do, and thus are investing their time and energy in upskilling. Thus, that also gives me the motivation to conduct my own research and broaden the case studies taught in modules. Some learners have also shared that they like the way I "connect the dots" across various modules so as to help them better appreciate the various subjects/disciplines when analysing business concepts from various angles.
6. How do you recharge on your days off? Do you have any hobbies that you are passionate about?
I love reading. This is probably the only activity that sets no constraint on how we 'acquire' experiences. Besides, I can always share what I read with my students in class to create a more enriching learning experience!
---
Eager to take your career to the next level? Find out more about the part-time diploma and post-diploma programmes offered by the School of Business & Accountancy here.