Lecturer Pearlyn Kwang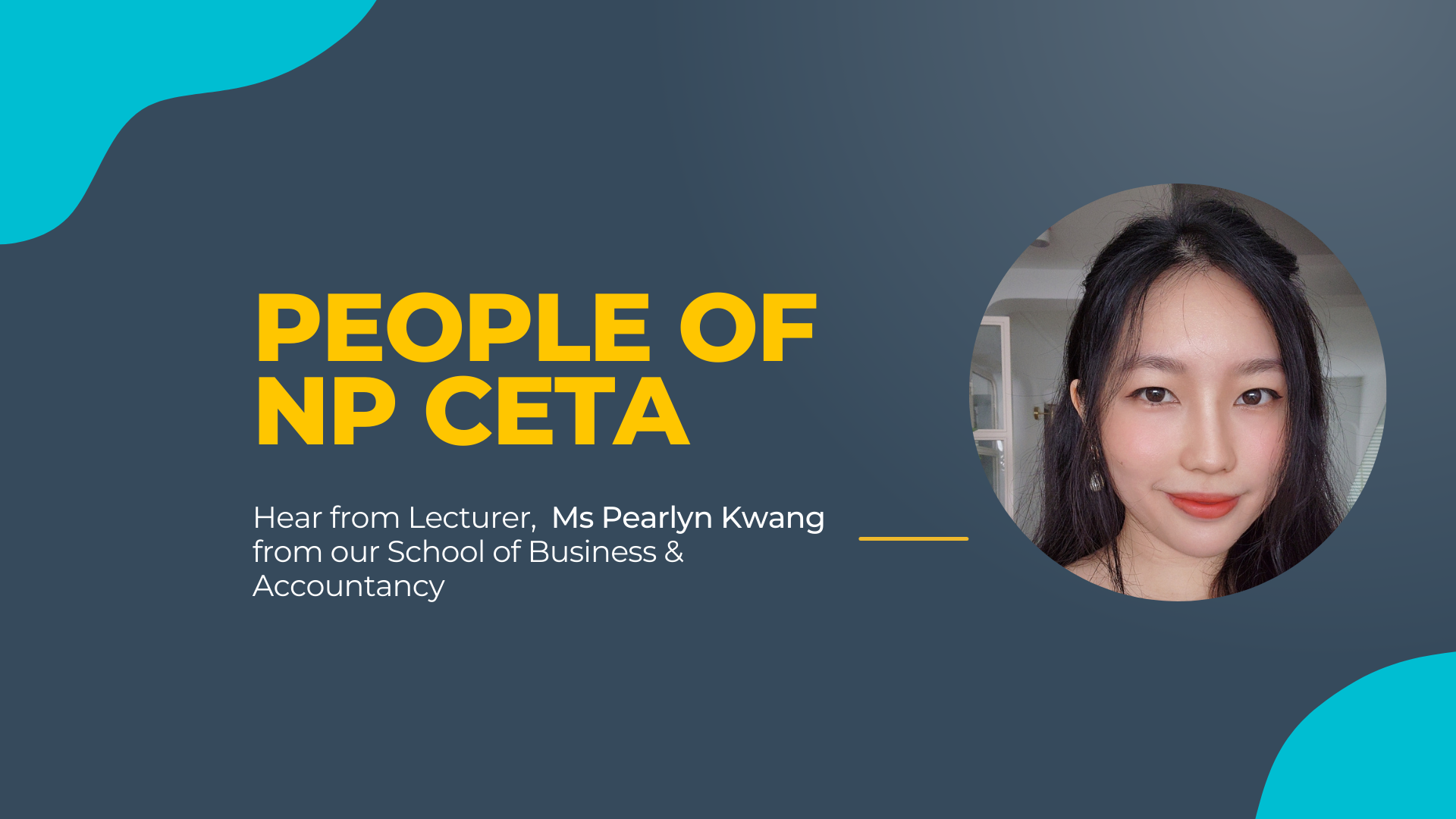 At NP CET Academy, we are dedicated to helping adult learners unlock future career opportunities. Hear from our academic and administrative staff – who inspire our learners to forge paths into exciting new careers!
Lecturer Ms Pearlyn Kwang has a background in psychology and joined Ngee Ann Polytechnic's School of Humanities and Social Sciences four years ago. Read on to find out more about the courses that she teaches in Student Care and Coaching, and how she seeks inspiration from the diverse group of learners who attend her lessons.
Can you tell us more about yourself, your background, and how you decided to become a lecturer?
Hi there! I am Pearlyn, and I joined NP after my stint as an associate psychologist at the Ministry of Education where I was working with students with special educational needs.
I am also an NP alumni, having had studied in the now defunct Diploma in Psychology and Community Services programme. I had passionate lecturers then who inspired me in many ways. They made learning fun and fulfilling for me. Since then, I told myself I will be back one day to do the same thing.
What motivates you in your day-to-day role in teaching? What do you enjoy most when teaching CET classes?
The most rewarding thing about teaching adult learners is that you learn as much from them as they learn from you. I am blessed to have met learners from diverse backgrounds. From retired grandmothers to medical professionals looking for a career switch to curious folks who just want to explore a new interest. Everyone brings with them their own set of experiences to share, which encourages rich and vivid discussions in class. I absolutely love conversing with my learners and listening to their different perspectives on things.
It also makes my day when my adult learners tell me that they applied what they learnt in class at work. Some of my adult learners (who are educators themselves) would excitedly share with me after class how they successfully implemented the strategies or programmes they have learnt in their own classrooms, with their students. Just knowing that the impact of my work goes beyond my learners motivates me to keep going.
Could you tell us more about the courses you teach as part of CET Academy programmes and why do you feel that this course/topic/module is important for learners?
I mainly teach the student care centre courses – I used to teach the WSQ Introductory Student Care Centre course, and now I teach modules in the part-time Diploma in Care and Programme (Student Services & Coaching). Last semester, I taught a module for the Specialist Diploma for Youth Development and Mental Wellness.
Children and youths face a myriad of challenges and stressors in today's fast-paced and constantly evolving world. Navigating numerous changes in school and dealing with pressures from social media can impact their mental well-being. Knowing how to provide proper support and guidance to young people will help them develop the resilience necessary to thrive in the face of adversity.
Your students must come from all ages and walks of life, what have you learnt from them?
All sorts of things, really! They helped me maintain currency by updating me of the latest trends (e.g. what the primary school students and youths are crazy about now). I learnt more about the challenges they face in the sector, which is valuable in the development of my materials and resources. I also come to learn that all learners, no matter their age, enjoy fun and games – so who says CET classes have to be boring lectures? Above all, I have gained many food and Korean drama recommendations from them – which is awesome!
What advice would you give to an adult learner who wants to do a mid-career switch?
Take the time to reflect on your strengths, interests and values. Figure out what lights you up! Do you have a hobby or skill you love? Is there a cause you are passionate about? Once you do, go out there and do something, no matter how small that step is. I would really encourage you to start by speaking to someone working in the field, seeking out relevant volunteering opportunities or by attending courses. Don't feel shy to reach out to people, most would be more than happy to share and direct you to resources.
Many of my students are here in NP because they realised they enjoy working with children or youths and want to make a difference in their lives. They took their first step and now have the company of like-minded peers to support them in their new journey ahead.
How do you recharge on your days off? Do you have any hobbies that you are passionate about?
I am a self-proclaimed foodie constantly on the lookout for yummy food places. I also love exploring new cultures and languages and this passion has taken me to many exotic and beautiful places around the world. When I am not gorging myself silly with food, you will probably find me brushing up on my language skills on Duolingo or planning my next adventure.
---
We hope Ms Kwang's story inspires you to begin your own learning journey. Click here to browse our catalogue of student care and youth development courses and stay tuned as we bring you more stories from our team!